SIZE GUIDES
TOPS & DRESSES
| | | | | | |
| --- | --- | --- | --- | --- | --- |
| | XS | S | M | L | XL |
| US/CAN | 1 | 3, 5 | 7, 9 | 11, 13 | 15 |
| Bust (in) | 31-33 | 33-35 | 35-37 | 37-39 | 39-41 |
| Waist (in) | 24-25 | 26-27 | 28-29 | 30-31 | 32 |
| Hips (in) | 33-34 | 35-36 | 37-38 | 39-40 | 41 |
| UK | 2, 4 | 6, 8 | 10, 12 | 14, 16 | 18 |
| EU | 32, 34 | 36, 38 | 40, 42 | 44, 46 | 48 |
| AUS | 2, 4 | 6, 8 | 10, 12 | 14, 16 | 18 |
| Bust (cm) | 78-83 | 83-89 | 89-94 | 94-99 | 99-104 |
| Waist (cm) | 60-65 | 65-70 | 70-75 | 75-80 | 80-85 |
| Hips (cm) | 83-88 | 88-93 | 93-98 | 98-103 | 103-108 |
BOTTOMS & SKIRTS
| | | | | | |
| --- | --- | --- | --- | --- | --- |
| SIZE | XS | S | M | L | XL |
| US/CAN | 0, 1 | 3, 5 | 7, 9 | 11, 13 | 15, 17 |
| Waist (in) | 24-25 | 26-27 | 28-29 | 30-31 | 32-33 |
| Hips (in) | 33-34 | 35-37 | 38-40 | 41-42 | 43-44 |
| UK | 2, 4 | 6, 8 | 10, 12 | 14, 16 | 18, 20 |
| EU | 32, 34 | 36, 38 | 40, 42 | 44, 46 | 46, 48 |
| AUS | 2, 4 | 6, 8 | 10, 12 | 14, 16 | 18, 20 |
| Waist (cm) | 60-65 | 65-70 | 70-75 | 75-80 | 80-85 |
| Hips (cm) | 83-88 | 88-93 | 93-98 | 98-103 | 103-108 |
SWIMWEAR & LINGERIE
| | | | | | |
| --- | --- | --- | --- | --- | --- |
| SIZE | XS | S | M | L | XL |
| US/CAN | 1 | 3, 5 | 7, 9 | 11, 13 | 15 |
| Bust (in) | 31-33 | 33-35 | 35-37 | 37-39 | 39-41 |
| Waist (in) | 24-25 | 26-27 | 28-29 | 30-31 | 32 |
| Hips (in) | 33-34 | 35-36 | 37-38 | 39-40 | 41 |
| Cup Size | 32A-32B | 32C-34B | 34C-36B | 36C-38C | 38D-40D |
| UK | 2, 4 | 6, 8 | 10, 12 | 14, 16 | 18 |
| EU | 32, 34 | 36, 38 | 40, 42 | 44, 46 | 48 |
| AUS | 2, 4 | 6, 8 | 10, 12 | 14, 16 | 18 |
| Bust (cm) | 78-83 | 83-89 | 89-94 | 94-99 | 99-104 |
| Waist (cm) | 60-65 | 65-70 | 70-75 | 75-80 | 80-85 |
| Hips (cm) | 83-88 | 88-93 | 93-98 | 98-103 | 103-108 |
| UK / EU Cup Size | 70B-70C | 70D-75C | 75D-80C | 80D-85D | 85DD-90DD |
| AUS Cup Size | 10A-10B | 10C-12B | 12C-14B | 14C-16C | 16D-18D |
PLUS
| | | | |
| --- | --- | --- | --- |
| SIZE | 1X | 2X | 3X |
| US/CAN | 14 | 16-18 | 20 |
| Bust (in) | 43-44 | 45-46 | 47-48 |
| Waist (in) | 36-37 | 38-39 | 40-43 |
| Hips (in) | 45-46 | 47-48 | 49-50 |
| UK | 18 | 20-22 | 24 |
| EU | 46 | 48 | 50 |
| AUS | 18 | 20-22 | 24 |
SHOES & BOOTS
| | | | | | | | | | | | |
| --- | --- | --- | --- | --- | --- | --- | --- | --- | --- | --- | --- |
| US/CAN | 5 | 5,5 | 6 | 6,5 | 7 | 7,5 | 8 | 8,5 | 9 | 9,5 | 10 |
| UK | 3 | 3,5 | 4 | 4,5 | 5 | 5,5 | 6 | 6,5 | 7 | 7,5 | 8 |
| EU | 36 | 36,5 | 37 | 37,5 | 38 | 38,5 | 39 | 39,5 | 40 | 40,5 | 41 |
| AUS | 5 | 5,5 | 6 | 6,5 | 7 | 7,5 | 8 | 8,5 | 9 | 9,5 | 10 |
How To Measure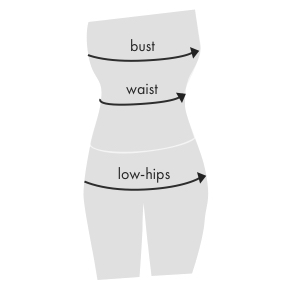 To choose the correct size for you, measure your body as follows:
Bust - Measure around the fullest part

Waist - Measure around natural waistline

Hips - Measure 20cm down from the natural waistline
Fit Guide
REGULAR FIT: Fits just right - not too tight, not too loose.
OVERSIZED FIT: Falls loosely on the body.
SLIM FIT: Fits close to the body.

SWING FIT: 
Fitted till the bust and flared till the bottom.